Cases & Stock Sheets
SIGCO stocks clear, tinted, reflective, rolled pattern, wire, laminated and mirror products in stock sheets and cases in a variety of sizes for customer pickup or fast delivery on our fleet of trucks.
Please note that large sheets of product may require splitting the sheet.
Cutting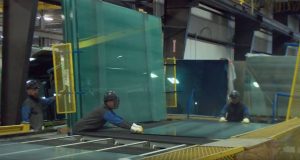 SIGCO uses three cutting lines to automatically cut all of the fabricated glass that moves through our plant.
When ordering glass, please specify dimensions as base x height, viewed from the exterior, so that we may properly orient coatings.
SIGCO is pleased to offer a Shape Catalog with over 100 standard shapes to assist you in ordering non-rectangular glass. Simply specify the shape number and the required dimensions.
In the event that your piece cannot be accommodated by our catalog of standard shapes, but has a constant radius, SIGCO is able to import a DXF file to our cutting system. Please supply as one clean layer, of glass only.
If your piece features a changing radius, SIGCO needs a template to digitize directly into our cutting system. Templates should be constructed of a thin, light, rigid material. The template should be exact size, or should clearly show the exact size using a thin, dark line. SIGCO is unable to use partial patterns or to add to daylight opening sizes.
Edging
Annealed glass is supplied with clean cut edges. Heat treated glass is supplied with seamed edges. The purpose of this seamed edge is to facilitate the heat treating process. This edge is not a "finished" edge and needs to be concealed.
SIGCO offers a "ground" edge for applications where the edge is exposed, but it is not necessary that it be "finished". Ground edges may contain random abrasions. An example of such an application is butt glazing.
For applications where the edge will be visible, SIGCO is excited to be able to offer a variety of polished profiles.
For applications where edges will meet, SIGCO offers custom miters up to 45 degrees.
For decorative applications, SIGCO can bevel, in 1/4" increments from 1/2" to 1".
Milling & Drilling
SIGCO utilizes state-of-the-art, CNC equipment to drill holes and mill cutouts and notches. Applications include table tops, ticket windows, mail slots, openings for electrical outlets and light fixtures. We also offer frameless architectural products such as entrances, shower enclosures and railing systems. Please see our Frameless Products for more information.
SIGCO is also able to provide you with any of the hardware you may require to complete your project with fabricated glass.
SIGCO offers spandrel glass—glass that has been rendered opaque to shield building material from view— on 1/4" glass in white, warm grey and black, or custom colors when available.
Our spandrel glass is available in monolithic lites or sealed insulating glass units. It should only be glazed against a dark background, such as above a ceiling or below a knee-wall and should not be used in transoms, partitions or other exposed applications.
SIGCO offers a five year warranty from the date of manufacture against material peeling, cracking or deterioration under normal conditions.
Float glass used in Shields by SIGCO spandrel panels complies with the requirements of ASTM C1036. Heat treated material complies with the requirements of ASTM C1048. Fully tempered product complies with 16CFR1201, as well as ANSI Z97.1
Heat Treating Glass
SIGCO heat treats glass using brand new, state-of-the-art, convection tempering ovens.
SIGCO offers two heat treated products – heat strengthened glass and fully tempered glass. Heat strengthened glass has approximately twice the mechanical and thermal strength of annealed glass. Heat strengthened glass is NOT a safety glazing product.
Fully tempered glass has approximately four times the mechanical and thermal strength of annealed glass and is a safety glazing product. Consequently, when fully tempered glass breaks, it "dices" into many small pieces – instead of several large, sharp shards.
SIGCO applies a small, sandblasted logo in the corner of each lite of heat treated glass, unless the customer requests otherwise.
Please note that once glass has been heat treated, it should not be field altered. Tempered glass should not be subsequently edged, drilled, milled, or sandblasted.
Heat treated glass is also more susceptible to spontaneous breakage. This breakage can occur from small inclusions, impact or wind borne debris. Particular care should be taken to protect installed product from masonry run off or weld splatter.
SIGCO heat treats glass horizontally, over a bed of ceramic rollers. Contact with these rollers may create surface waves. These waves will cause distortion when viewing reflected images from a distance. SIGCO makes every effort to maintain distortion parallel to the sill, however this distortion is not considered a defect.
The nozzles in the quench section can leave a strain pattern most visible when viewed under polarized light and acute angles. This pattern is also inherent in the process and not considered a manufacturing defect.
For more information on acceptable industry standards for heat treated glass, please reference ASTM C-1048.
Related Links
Sealed Insulating Glass
Looking for a sealed insulating glass company? Our name – SIGCO – says it all!
Sealed insulating glass units are two (or more) lites of glass separated and hermetically sealed to spacer frames at the glass edges with the air chamber(s) dehydrated.
SIGCO manufactures sealed insulating glass units every day using annealed, laminated and heat treated glass that is clear, tinted, reflective, low-e, even patterned.
In addition to our wide variety of glass, we inventory standard aluminum box spacers in grey and black. We also offer thermally broken spacers in clear and dark bronze. Our spacers are mechanically bent and filled with a moisture absorbing desiccant. SIGCO inventories decorative muntins for internal grids, available in a box style, a contoured style and those that simulate divided lite units.
When the highest thermal performance is required, SIGCO can replace the air in the unit with argon gas. Unless otherwise specified, units are made with a primary seal of polyisobutylene and a secondary seal of two-part silicone. Units are tested to the highest industry standard – ASTM E2190 (formerly ASTM E773/E774) – by independent labs working with the Insulating Glass Certification Council (IGCC), and are warranted against failure of the hermetic seal for ten years from the date of manufacture.
Unless otherwise specified, SIGCO fabricates sealed insulating glass units with lites of the following thickness, depending on the area of the unit:
| | | |
| --- | --- | --- |
| > 12 sq ft | | 3/32" |
| 12 > 15 sq ft | | 1/8" |
| 15> 24 sq ft | | 5/32" |
| 24 > 32 sq ft | | 3/16" |
| 32 > 50 sq ft | | 1/4" |
SIGCO does not warranty units over 50 square feet against seal failure, and will only manufacture them after application review with the customer.
Technical Support & Information
SIGCO offers support to our customers, architects and owners from an extensive library of technical information. We provide performance data on such topics as thermal stress, wind loading, STC ratings, moisture and condensation, in addition to UV, visible and solar light transmission. Other performance data are available on all our products.
We have long standing partnerships with Guardian Industries, Pilkington, Vitro and many others. All offer additional technical and professional support.
Installation
SIGCO is pleased to review any questions that customers might have about handling, framing, glazing or cleaning our products. Simply call us with your questions.
Glazing
SIGCO urges its customers to follow the recommendations of the Glass Association of North America (GANA) Glazing Manual (2008). The GANA Glazing Manual is recognized as the definitive source in the glass and glazing field.  This manual includes complete information about primary and fabricated glass products, quality standards, design considerations, general and specific glazing guidelines and glazing in hazardous locations.  Formerly published by the Flat Glass Marketing Association (FGMA), this manual is frequently referred to as the "industry bible."   The 2008 Edition of the Glazing Manual is now available in both hard copy and CD-ROM format.
Quality Standards, Certifications and Warranties
All float glass products comply with ASTM C-1036; tempered and spandrel glass with ASTM C-1048; laminated glass with ASTM C-1172 and mirror with ASTM C-1503. Tempered and laminated glass meet ANSI Z97.1 and CSPC 16 CFR 1201, as required by federal, state or local safety glazing codes. Glass strength and wind loading are determined in accordance with ASCE 7 and ASTM E1300.
Our fully tempered glass is tested to comply with the requirements of the SGCC (Safety Glazing Certification Council).
Our sealed insulating glass units are manufactured with a dual seal of polyisobutylene and silicone. Our units are tested to comply with the IGCC's (Insulating Glass Certification Council) certification requirements. We manufacture to Quality Assurance Standards as required by IGCC, which includes compliance with our stringent Quality Assurance Program. We offer a warranty on our sealed insulating glass units against manufacturing defects that cause hermetic seal failure for a period of ten years from the date of manufacture.
Oldcastle BuildingEnvelope®'s anodized finishes conform to the American Architectural Material Association's designations for Clear (AAMA 610) and electrolytically deposited colors (AAMA 611). Painted finishes conform to AAMA 2604 and 2605.